Posts for tag: mouthguards
By Valley Dental Care
March 03, 2021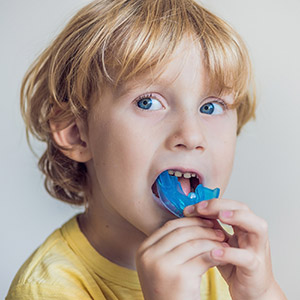 A wave of madness is about to sweep across Indianapolis and onto television screens across America—March Madness, that is. That's right: After its cancellation in 2020 due to COVID-19, the famed NCAA men's basketball tournament is back with all 68 games scheduled to be played in and around Indianapolis. As you can imagine, there will be numerous health precautions, and not just for the pandemic—there should also be mouthguards aplenty.
Why mouthguards? Although you might think football and hockey would be rougher on players' teeth, gums and jaws, basketball actually tops the list of sports with the most dental injuries. Such an injury occurring from a split-second contact with another player could take years to overcome.
Fortunately, mouthguards are a proven way to reduce sports-related mouth injuries among professional and amateur basketball athletes. Made of a pliable plastic, mouthguards cushion against blunt forces to the mouth generated during play (and not only formal games—practices and scrimmages too).
But while wearing a mouthguard is a no-brainer, choosing one can be a little intimidating. True, they all work on the same principle, but there are dozens of types, designs and price ranges.
We can, however, distill them down to two basic categories: "boil and bite" and custom mouthguards. You'll find the first kind online or in a local retail sporting goods store. It's named so because you first place it in hot water to soften it, and then place it in the mouth and bite down to create an individual fit.
As an inexpensive option, boil and bite mouthguards provide a level of protection. But they also tend to be bulky and uncomfortable, which can tempt players to wear them less. And the softer plastic (compared to custom guards) allows for a lot of jaw (and in turn, teeth) movement, which can cause teeth to loosen over time.
Custom mouthguards, on the other hand, are created by dentists based on impressions made of the wearer's mouth. As such, the fit tends to be more precise, requiring less material than the boil and bite variety, thus affording a greater degree of comfort. And there's less potentially damaging jaw movement with a custom mouthguard. As you might imagine, custom mouthguards are more expensive, but compared to the potential treatment cost for a sports-related dental injury, it's money well spent.
Investing in a custom mouthguard for your family basketball (or football, hockey or baseball) player is a sound way to protect their dental health. And that's not madness at all.
If you would like more information about athletic mouthguards, please contact us or schedule a consultation. To learn more, read the Dear Doctor magazine article "Athletic Mouthguards."
By Valley Dental Care
February 24, 2020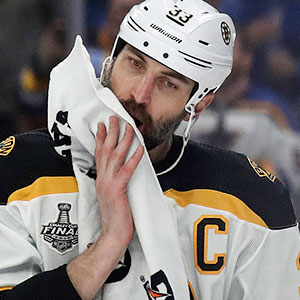 Boston Bruins defenseman Zdeno Chara had a rough Stanley Cup final against the St. Louis Blues this past June. Not only did the Bruins ultimately lose the championship, but Chara took a deflected puck shot to the face in Game Four that broke his jaw.
With the NHL season now over, the 42-year-old Bruins captain continues to mend from his injury that required extensive treatment. His experience highlights how jaw fractures and related dental damage are an unfortunate hazard in hockey—not only for pros like Chara, but also for an estimated half million U.S. amateurs, many in youth leagues.
Ice hockey isn't the only sport with this injury potential: Basketball, football (now gearing up with summer training) and even baseball players are also at risk. That's why appropriate protective gear like helmets and face shields are key to preventing injury.
For any contact sport, that protection should also include a mouthguard to absorb hard contact forces that could damage the mouth, teeth and gums. The best guards (and the most comfortable fit) are custom-made by a dentist based on impressions made of the individual's mouth.
But even with adequate protection, an injury can still happen. Here's what you should do if your child has an injury to their jaw, mouth or teeth.
Recognize signs of a broken jaw. A broken jaw can result in severe pain, swelling, difficulty speaking, numbness in the chin or lower lip or the teeth not seeming to fit together properly. You may also notice bleeding in the mouth, as well as bruising under the tongue or a cut in the ear canal resulting from jawbone movement during the fracture. Get immediate medical attention if you notice any of these signs.
Take quick action for a knocked-out tooth. A tooth knocked completely out of its socket is a severe dental injury. But you may be able to ultimately save the tooth by promptly taking the following steps: (1) find the tooth and pick it up without touching the root end, (2) rinse it off, (3) place it back in its socket with firm pressure, and (4) see a dentist as soon as possible.
Seek dental care. Besides the injuries already mentioned, you should also see a dentist for any moderate to severe trauma to the mouth, teeth and gums. Leading the list: any injury that results in tooth chipping, looseness or movement out of alignment.
Even a top athlete like Zdeno Chara isn't immune to injury. Take steps then to protect your amateur athlete from a dental or facial injury.
If you would like more information about dealing with sports-related dental injuries, please contact us or schedule an appointment for a consultation. To learn more, read the Dear Doctor magazine articles "Athletic Mouthguards" and "The Field-Side Guide to Dental Injuries."