Posts for tag: dentures
By Valley Dental Care
October 11, 2020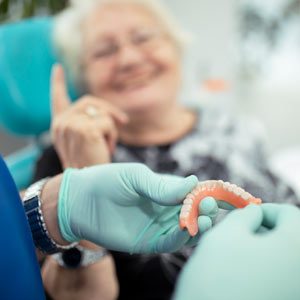 Although teeth are quite durable, we can still lose them—even all of them—to disease or injury. The good news, though, is that we have effective ways to restore teeth after they're lost. One of these, the removable denture, has given people their teeth back for several generations. And with recent advances in technology, today's dentures are even better.
Although more advanced, today's dentures share the same basic structure as those from a century ago: prosthetic (false) teeth set in a plastic resin colored to resemble the gums. The traditional denture is molded to fit snugly over an individual patient's alveolar jaw ridges, which once supported the former natural teeth. The denture stays in place primarily through a suction effect between the denture and the ridges.
Modern technology, though, has greatly improved today's dentures. Digital imaging can be used to generate highly accurate impressions of the dental ridges that can lead to denture bases with better fit. Dentists using photographs of the patient, especially in earlier years, are better able to identify facial landmarks, which enables them to position the new teeth to more closely recreate the patient's former smile.
These technological aids now help dentists to create more attractive dentures with better support and comfort. But the fit that makes this possible may not last due to a particular weakness inherent in traditional dentures—continuing bone loss. When teeth are missing, the underlying jawbone can lose bone volume over time. Dentures don't stop this process and can accelerate it due to constant friction and pressure on the dental ridges.
But a new modification incorporating dental implants with dentures can help solve these problems. By placing a few strategically positioned implants in the jawbone that then connect with the denture, the appliance not only gains more stability, but also produces less pressure on the dental ridges. In addition, bone cells naturally grow and adhere to the titanium implant posts, which helps to stop or slow bone loss.
If you've experienced total tooth loss, dentures are an affordable and effective option. Thanks to modern dental advances, you can get back the smile and dental function you once lost.
If you would like more information on denture restorations, please contact us or schedule an appointment for a consultation. You can also learn more about this topic by reading the Dear Doctor magazine article "Removable Full Dentures."
By Valley Dental Care
January 30, 2019
People have depended on dentures for generations—and they still do. That's because they work, both in restoring dental function and a smile marred by missing teeth.
But they have one major drawback related to bone health. That's because living bone has a life cycle: as older cells die, new ones form to take their place. The pressure generated when we chew stimulates this growth. But when this stimulus goes missing along with the teeth, the cell replacement rate slows and bone volume and density gradually diminishes.
Traditional dentures can't transmit this chewing pressure stimulus. And because they rest directly on the gum ridges, they can adversely affect the underlying bone and actually accelerate bone loss.
But implant technology potentially solves this bone loss problem with dentures by using implants rather than the gums to support them. It's a two-fold benefit: first, the implants relieve much of the irritation to the gums and bone caused by traditional dentures. Primarily, though, the implants themselves can slow or even stop continuing bone loss.
Most implants are made of titanium, not only because it's compatible with the body, but also because it has an affinity with bone. Over time bone cells grow on the titanium post imbedded in the jawbone. This process not only creates stability and durability, it can improve bone health.
In recent years dentists have incorporated implants with dentures to create two exciting treatment options. With one option, the dentist installs two or more implants in the jaw, to which a specially fitted removable denture can be attached. You would still have the ease of removing the denture for cleaning, while gaining greater stability and a reduced risk of bone loss.
The other option is a fixed denture (or bridge) attached permanently to implants. For this option, a patient's jawbone must be adequate and healthy enough to support at least four to six implants. A fixed denture is also often costlier and more complex than a removable denture, but it can feel more like real teeth. It also promotes better bone health too.
Although both options are more expensive than traditional dentures, they can pay dividends for long-term dental health. Implants could help you enjoy your new dentures and resulting smile for a long time to come.
If you would like more information on dental implant-supported restorations, please contact us or schedule an appointment for a consultation. You can also learn more about this topic by reading the Dear Doctor magazine article "Overdentures & Fixed Dentures."
By Valley Dental Care
July 18, 2017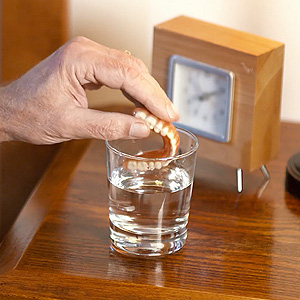 Dentures can be an effective and affordable solution for people who've lost all their teeth. With them a person can once again eat nutritiously, speak clearly and smile confidently — and with regular care they can last for years.
As part of that ongoing care, be sure you consider one important thing with your dentures: you may want to take them out at night while you sleep. If you do you'll lessen your chances of developing these 4 health problems.
Accelerated bone loss. Traditional dentures are fitted to rest securely on the gums. This, however, creates pressure on the gums and the bony ridges beneath them that can contribute to bone loss. Wearing dentures around the clock usually accelerates this process, which could eventually lead to among other problems looser denture fit and discomfort.
Bacterial and fungal growth. Microorganisms that cause oral diseases find conducive breeding spots on the underside of dentures while they're worn in the mouth. Studies have found that people who continuously wear their dentures are more likely to have bacterial plaque and oral yeast than those that don't.
Potentially dangerous infections. Bacterial and fungal growth increases your risk of oral infections that could affect more than your mouth. A recent study of elderly nursing home residents found those who wore their dentures during sleep were over twice as likely to develop serious cases of pneumonia requiring hospitalization. It's believed bacteria harbored on the dentures can pass from the mouth to the lungs as a person breathes over them while they sleep.
Blocked salivary flow. During the night our salivary flow naturally ebbs; wearing dentures while we sleep could cause denture stomatitis, in which the tissues covered by a denture (particularly along the roof of the mouth) become inflamed and infected with yeast. It's often accompanied by angular cheilitis or cracking at the corners of the mouth that becomes infected by the same yeast.
Wearing your dentures while you sleep contributes to conditions ranging from irritating to life-threatening. To prevent such problems clean your dentures as well as the rest of your mouth regularly — and talk to your dentist whether you should leave them out when you go to bed.
If you would like more information on denture care, please contact us or schedule an appointment for a consultation. You can also learn more about this topic by reading the Dear Doctor magazine article "Sleeping in Dentures."