Posts for tag: dental implant
By Valley Dental Care
July 03, 2020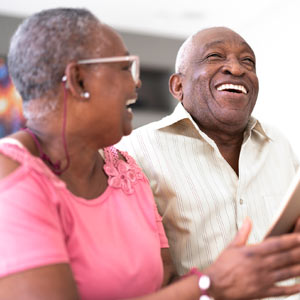 Complete tooth loss is a common condition among older adults, gradually occurring one or two teeth at a time. There often comes a point of realization, though, that all the teeth will eventually be lost.
This can create a dilemma: Do you replace teeth as they're lost, or go ahead and have all of them removed at one time?
Up until recently, the latter choice seemed the most practical and affordable. But most dentists would agree that keeping natural teeth for as long as practical is better for a person's overall oral health and to slow any potential bone loss.
The emergence of dental implants has made this less of a dilemma: We can use this technology to more affordably replace teeth in stages rather than all at once. This is because an implant is technically a root replacement: a dentist inserts a titanium metal post into the jawbone. Because of an affinity with titanium, bone cells grow and adhere to the implant surface, which creates a stronger hold. It also impedes bone loss.
We can, of course, use implants as individual tooth replacements. But the expense of this approach with multiple teeth puts it well out of reach financially for many people. But implants can also be used as connective points between the patient's jaw and other kinds of dental restorations like bridges, partial dentures, and full removable or fixed dentures.
Using this approach, we can adopt a strategy of allowing healthier teeth to remain until it's necessary to remove them. We initially place implants to support a bridge, for example; later we can use the same implants along with additional ones to support a larger restoration, even a fixed full denture.
An implant-supported restoration is typically more expensive than traditional bridges or dentures, but far less than replacing teeth with individual implants. And because the stages of restorations may occur over a long period of time, the cost can be spread out to make it more manageable.
If you're facing a future where it's likely you'll lose all your teeth, you don't have to lose them all at once. Staged restorations with implants could help you hold on to your natural teeth for as long as possible, slow bone loss and make for a healthier mouth.
If you would like more information on the wide array of dental restoration options, please contact us or schedule an appointment for a consultation. You can also learn more about this topic by reading the Dear Doctor magazine article "Replacing All Teeth But Not All at Once."
By Valley Dental Care
July 09, 2019
You would love to replace a troubled tooth with a dental implant. But you have one nagging concern: you also have diabetes. Could that keep you from getting an implant?
The answer, unfortunately, is yes, it might: the effect diabetes can have on the body could affect an implant's success and longevity. The key word, though, is might—it's not inevitable you'll encounter these obstacles with your implant.
Diabetes is a group of metabolic diseases that interfere with the normal levels of blood glucose, a natural sugar that is the energy source for the body's cells. Normally, the pancreas produces a hormone called insulin as needed to regulate glucose in the bloodstream. A diabetic, though either can't produce insulin or not enough, or the body doesn't respond to the insulin that is produced.
And while the condition can often be managed through diet, exercise, medication or supplemental insulin, there can still be complications like slow wound healing. High glucose can damage blood vessels, causing them to deliver less nutrients and antibodies to various parts of the body like the eyes, fingers and toes, or the kidneys. It can also affect the gums and their ability to heal.
Another possible complication from diabetes is with the body's inflammatory response. This is triggered whenever tissues in the body are diseased or injured, sealing them off from damaging the rest of the body. The response, however, can become chronic in diabetics, which could damage otherwise healthy tissues.
Both of these complications can disrupt the process for getting an implant. Like other surgical procedures, implantation disrupts the gum tissues. They will need to heal; likewise, the implant itself must integrate fully with the bone in which it's inserted. Both healing and bone integration might be impeded by slow wound healing and chronic inflammation.
Again, it might. In reality, as a number of studies comparing implant outcomes between diabetics and non-diabetics has shown, there is little difference in the success rate, provided the diabetes is under control. Diabetics with well-managed glucose can have success rates above 95%, well within the normal range.
An implant restoration is a decision you should make with your dentist. But if you're doing a good job managing your diabetes, your chances of a successful outcome are good.
If you would like more information on dental care and diabetes, please contact us or schedule an appointment for a consultation.