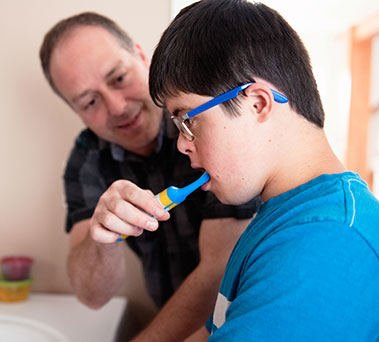 Thanksgiving is an appropriate time to spotlight an often unsung group: individuals providing primary care for another family member. During November, National Family Caregivers Month recognizes those caring for children with special needs or senior adults with life challenges—and part of that ongoing care includes watching out for their loved one's oral health.
Keeping teeth and gums healthy requires a concerted personal effort to prevent dental disease. While most of us can handle this on our own, some need assistance. If you're caring for someone like this, be sure you focus on two main areas: daily hygiene and regular dental visits. These are the two foundation stones for preventing tooth decay and gum disease.
The relatively simple tasks of brushing and flossing are crucial for disease prevention—but they can pose a challenge for someone with diminished physical, mental or behavioral capacity. In some cases, you as a caregiver may have to perform the task for them.
But even someone with severe limitations may be able to do these tasks for themselves with some adaptations. For one, choose a place for brushing and flossing that's most comfortable for the person (not necessarily the bathroom) and keep to a routine schedule. Above all, approach the task in a positive and playful way, especially for children.
Choose a toothbrush and flosser that your loved one can easily handle. Flossers are also available with toothbrush-sized grips for those with less manual dexterity. An older person with arthritis may need an extra-large grip or a toothbrush modified with a bicycle handle. As an alternative, both children and older adults may benefit from using an electric toothbrush. Some special needs children can have a gag response to toothpaste, so you may wish to use less or substitute it with a diluted fluoride mouthwash on the brush.
Dry mouth is a concern among many older adults, often due to the medications they take. In fact, hundreds of medications can have dry mouth as a side effect. Saliva serves the important oral health function of washing away food debris and neutralizing acid in the mouth, but when saliva production is low, it is not only uncomfortable—it greatly increases the risk of tooth decay. To help with dry mouth, encourage your loved one to drink more water during the day and ask us to recommend a product that will boost their saliva production. You can also ask their physicians about drug alternatives without dry mouth side effects.
To make dental visits easier, be sure we know about any needs or conditions that might affect their care. If possible, accompany your older family member during their visit: Because health problems often increase with age, even routine visits may be more involved.
We understand that caring for family members who need assistance can be demanding, with needs often being prioritized. We urge you to keep dental care on the high-priority list—it could make a difference with the rest of their health and overall quality of life.
If you would like more information about oral care for a family member with special needs, please contact us or schedule a consultation. To learn more, read the Dear Doctor magazine article "Aging and Dental Health."