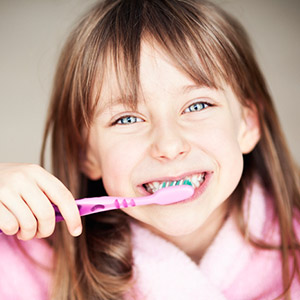 If your kids are getting ready to start back with in-person school this year, you've no doubt began stocking up on new clothes and classroom supplies. Right before school begins is also a good time to make sure their teeth and gums are in good shape.
Life gets busier for families once the school year begins. It's wise, then, to take advantage of the waning summer break's slower pace to catch up on other concerns, including teeth and gum health. In that regard, here are 4 aspects of dental care deserving attention before the school bell rings in a new year.
Cleanings. Hopefully, your kids are brushing and flossing every day, a habit they've practiced from an early age. But while these hygiene tasks effectively rid the teeth of most of the accumulated dental plaque (the thin bacterial film most responsible for tooth decay), some of it can slip by. A thorough dental cleaning every six months can clear away elusive plaque and tartar (hardened plaque)—and right before the school year begins is a great time.
Checkups. Regular dental visits also make it easier to stay ahead of any developing tooth decay or other dental disease. We have advanced equipment and methods for detecting even the tiniest occurrence of disease—and the earlier we find and treat it, the less damage it can cause. We can also perform preventive procedures like sealants or topical fluoride that reduce the risk of tooth decay.
Bite evaluation. It's also a good idea for a child just starting school (around age 6) to undergo a bite evaluation with an orthodontist. These dental specialists are trained and experienced in detecting jaw and tooth development that's not proceeding on a normal track. It's possible that finding and treating a bite problem early on could help you avoid orthodontic treatment in the future.
Sports protection. In addition to school, many older kids are also preparing for a new sports season, particularly football and basketball. But kids in these and other hard contact sports are also at risk for injury, particularly to the mouth from a hard impact. You can lessen that risk by obtaining an athletic mouthguard for them that cushions any blows to the face and jaw. The best option is a custom mouthguard we create for your child based on their individual dental dimensions.
It takes a lot of time and effort to ensure your child's school year gets off to a good start. Be sure that includes looking after their dental health.
If you would like more information about children's dental care, please contact us or schedule a consultation. To learn more, read the Dear Doctor magazine article "Athletic Mouthguards."